Christmas & New Year Celebrations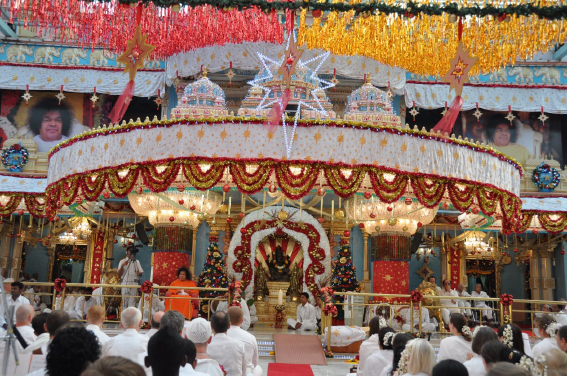 Dear All, Warm and Loving Sairam !
Sunday. Dec, 22 at 4 pm: The Sai Christmas Celebration – A Season of Spiritual Gifts 
The Christmas Season is upon us. Time for good cheer and celebration.
Our Center is so blessed to be celebrating the 10th year anniversary of Christmas Decoration in Prashanthi Nilayam. We sincerely request each one of you to attend and be part of this special celebration.
Just as an additional note the picture above is a Blessing from Beloved Baba with our Christmas decoration in 2009.
Join the carolers for the practice this Sunday from 2:30-3:45 pm in the SSE building. Learn the songs and keys so you can sing or play along on the Carols. We will also have Bhajans and rare video of Swami giving gifts along with our Season of Giving Christmas feature. All are welcome to join us the caroling, warm cider and fun!
Please click here to download the flyer.